Image by Cool Text: Free Logos and Buttons
disclaimer: The Vampire Bible (blog post #28 Vampire Bible as part of my 2014 – 31 days of Halloween) I've included the original information, as well as elaborating more. I continue to add (though I may, in time, have to make a 2nd page as I have a heck of a lot of information here
Vampires Rule The 80's in New Music Video – Horror News and Movie Reviews  & Below is the video (if you don't want to read)
Vampire 411 –
The Database
Pros and Cons of Being a Vampire
PROS – Powers, live forever,Time (read, learn or travel everything you want)
CONS- Seeing your loved ones die, No Sun, Live forever (some go mad over time), need lots of $$
Eye color Depending on the age, a vampire's eyes can change over time.
From Death (grey/silver) Blue to   Elder's Blood red or  Black & Ancient Frost (-ed over)
Then there's also the yellow color eyes of the vampires (which are considered minor demons in Buffy the Vampire Slayer)
The older the vampire, the  more powerful and more tricks up its sleeve!
There is speculation that if you chop off a limb it will grow back Just not decapitation (which normally is final death) unless demon branded. This is from a story jeanine Frost wrote for Home for the Holidays.
It's wrong no matter the limb, you WILL not grow one back.  It's like a human losing an arm and getting a prothesis, we can just take another arm and put it on us, let it heal and good as new.
Vampires are not always souless, not unless they lose their humanity which some can 'switch' off an on at will while with others it takes years (think of it as a pet dog or cat eventually becoming feral)
Being Turned -some variations
One person read 75 vampire books during the time they were caring for someone and thinking of mortality themselves. They saw the pattern of how the interest in Vampires cycles over time. That time is usually when we are in a time of depression or mortality.  (Bloodties is also a 2 season Tv series)
I'm sure while reading all those books they read many codes of conduct an individual vampire had or the community itself.  They mention the tv series Moonlight if you watch the first 3 episdoes on the series (free on the CW seed) you will find out not only the community's ethics but Mick St. John (Hawaii 5-0's Alex O'Loughlin) Now I've read most of the House of Night Books in which there is a vampire school, and I've read and watched the Vampire diaries, watch ed True blood and am currently trying to collect the full series too read. Those are great series to read (and even watch) for some ideas of vampire ethics even if those may just be fiction or may have some validity to them within our world. https://www.npr.org/templates/story/story.php?storyId=123115545
Other sources
Vampirewebsite.net/thenewcode.html
Celebrating the culture of the Vampire
The Totum Lex Vampyrica  – Guidelines to South African Enviorns
The Atlanta Alliance  Vampiric Ethos
washingtonpost/the-ethics-and-economics-of-vampire-re-ensoulment
Dracula Castle aka Bran castle, NOT the real castle Dracula !!  Hunedoara castle and Poenari  even
 Castle Corvin where he was held prisoner for 7 years can in a sense be considered so.
water handicaps restoration work on Tokat Castle Known as Dungeon of Dracula 
Survey shows Romanians would vote Vlad 'Dracula' president
The OrderOfTheDragon was founded  in December 1408 https://en.wikipedia.org/wiki/Order_of_the_Dragon 
Garlic, crosses, holy water, running water (like a stream they couldn't cross, this seems a running theme for the dead like the headless horseman)
Vampires can be Obsessive compulsive perfectionists, so by the rules of folklore they will feel the need to count every single seed (mostly poppy or sesame were used) before it can go on its way.
Spread tar around your window and door in the shape of a cross, with this the people thought that when the blood sucker would try sneaking in he would get stuck on the tar and would perish to a rising sun. (as if their clothing wouldn't tear off!)
There's been other tales of items said to spook vampires like Bells ringing, holy symbols (besides crosses) rain, falling snow & of course fire and if you are really desperate eating the dirt from their grave may also help stave off an attack
Vampires avoid plants with healing & mystical properties like Garlic (kills germs) Aloe Vera, vervain (like in Vampire Diaries) which helps keeps them from compelling (also known as enthralling, or glamoring) you. and they had distaste for wild rose and Hawthorne too.
There's folklore that says only a stake made of ash or hawthorne could kill a vampire
Some thought if you cut the limb off a vampire, it would just grow back, just not if they were decapitated, Unless of course they were demon branded (from Home for the Holidays by Jeanine Frost)
CenePIRE
The first film adaptation of Dracula was released in 1922 and was named Nosferatu directed by Friedrich Wilhelm Murnau and starred Max Schreck as Count Orlock.The first authorized film version of Dracula did not come about until almost a decade later when Universal Studios released Tod Browning's Dracula (1931 film) starring Bela Lugosi. Florence Stoker, Bram Stoker's widow and literary executrix, sued the  Nosferatu production, he main complaint was  she had  neither been asked for permission nor paid any royalty for the adaptation. nor paid any royalty. The suit after dragging on for years,was resolved in July 1925 in favor of the Widow Stoker
FAQs
If vampires were real, how much blood would they need to stay alive and not be malnourished?
How Fast/Strong etc is a vampire
That is hard to say as human equipment cannot get a reading for their speed. (off the chart) Same with Strength. You also have to remember the older the stronger, faster and everything else. The best guess scenario is They are faster than 50 MPH.
The human eye or mind cannot track their movements (this is why many think vampires can become invisible,  not to say they cannot.) They are fast enough that you blink an eye and they are nowhere to be found, and likely by the time you get to the door to look down either side of the street, they are already home.  The closest we may come to seeing them is those times you saw something move in the corner of your eye. That blur of a body that is caught between solid and mist. What speed might that be? 100 miles per hour? As far as strength… How much Torque would it take to rip a car door off the hinges? Stop a moving (speeding even) car or trailer dead in its tracks.
Where did the very First Vampire come from?
DO you mean the first idea of a vampire in our world? Or do you mean in certain instances like How did Dracula become Dracula,
Depends on your definition of 'First' and if you mean fictional or historical.
What is a True Vampire
Killing or Injuring a vampire
What kills a vampire?the Sun (or UV ray has been used) – what faster way to decompose a dead body?
Beheading(decapitate)    (sometimes both is needed)
There's some legends that say a vampire could only be killed by a steak made of Ash or Hawthorn (& no other would work) This is shown in the vampire Diaries tv series. and it's spin-off  The Originals. The original family can only be killed by one particular tree's wood. An ancient oak that was burned after they were turned. The Originals' could only be killed (well more like put to rest than killed) by The White Oak steaks that were made from the tree when they were still human. This was because that tree had something to do with them being turned.(maybe it was like Yggdrasil the tree of life?)
this was a question asked of me on Quora.    my answer...
Considering 2 things…
1. That vampires are supposed to have no soul
which would mean yes they can be possessed by a demon as there is not already one there. Even if they do have a soul, it would be weak being as even if they do not want to be a vampire, and don't want to feed from the living (human or animal) they still do so that would weaken their resolve. However as they would be 'good' vampires would more likely to be attacked as Demons are considered to possess the weak. This is what would be considered a weak vampire in their world. One that has no problem feeding from humans and maybe barely having a handle on their humanity would likely not be possessed.
2. then we got to some if not all consider Vampires to be a (form of) demon
I don't but if they are a form of demon then no they cannot be possessed by one
---
Fang out & sit down for a feast!
#1 The Lost Boys
Blade
Near Dark
Dracula Untold
Fright Night
The Hamiltons
Salem's Lot
Daybreakers
Queen of the Damned
From Dusk til Dawn
Suck
The Forsaken
Afflicted
Kindred The Embraced  (TV)
Bloodsucking Bastards
Bram Stoker's Dracula's GUest *Chimeres * Living Among Us * Hunted*
Perfect Creature & Vampire Journals I have in my DVD collection (I have to re-watch so they are not on the official list yet)
Here is Father Sebastian's countdown of the best though I do not exactly agree with the order nor can I stand to watch Bram Stoker's Dracula or Interview with the Vampire any longer, for one… I never liked Tom Cruise or Brad Pitt in the costumes and make-up, it insulted me in a sense I guess you could say I guess they made them too 'pretty' .. (I usually go for Queen of the Damned for the music and well Stuart Townsed needs to grow some real fangs after that movie I just could not watch him in anything else as I always say… "Fangs make the man"
---
Coffin Crafts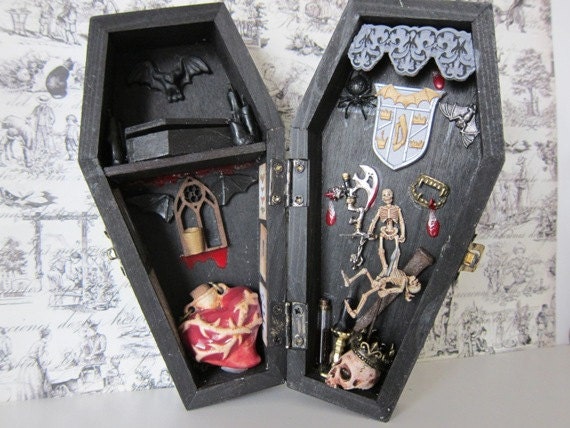 Vampires.com
wamphryshadows – vampyric-gods-and-goddesses
http://whitney05.hubpages.com/hub/Vampires *
The-New-England-Vampire-Scare-Vampires-in-the-US
http://cryptid.hubpages.com/hub/How-to-Become-a-Vampire-in-Real-Life-and-Why-You-Should-Think-Twice